Posts Tagged 'Vicente Del Bosque'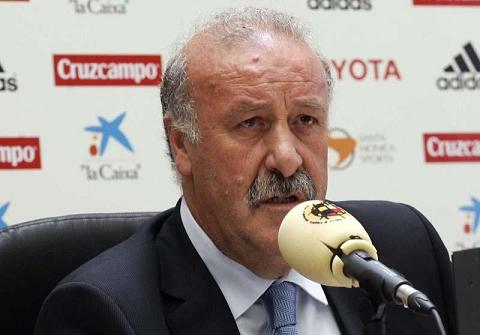 His Majesty, King Juan Carlos decided to distinguish different personalities for their contribution to the enhancement of Spain in the World, including highlighted the writer Mario Vargas Llosa, Nobel Prize for Literature appointed late last year, coach Vicente Del Bosque , the main architect of the victory of Spain in the 2010 World Cup.
Is well-known thanks to King Juan Carlos made the whole football team of the Mother Country as a whole, however, His Majesty wished to give greater recognition to the path of Spanish coach made Marquis of Del Bosque, in recognition of his dedication and above all his constant promotion of sport values in their pupils.
Vicente Del Bosque is a quiet man, cunning, with nerves of steel. It does not have the verbiage with which other coaches sell smoke but when he speaks, speaks very clear. After the defeat against Switzerland in the first game came the next day to give a press conference that lasted as long as it took. Sitting, quietly, without a wry face, was answering all the questions that journalists might have. As much as attempted to touch the fiber, did not even blink: armed with patience until they attended at all and there was nothing more to ask.
Before that, he had to deal with the absurd debate about whether the call for Valdes could sow discord in the group. Then came the debate about the dual-pivot. I myself raised in these pages, albeit in a purely football. Meanwhile, the opportunists, the self-conscious, the ignorant, those who see Spanish players, but team members who are hooligans, they began to spin the carousel of idiots: if  Del Bosque had no blood in the veins, if only had trained at the elite, that all he had won in Madrid was because he had players who win.
But Del Bosque followed his own, confident that hard work and effort of their own, would finally put everyone in place. They were going the rounds and the coach took key decisions. Alonso kept Busquets and despite everything, drain the match against Portugal with the departure of Llorente, corduroy broke the surprising appeal of Peter against Germany … And little by little, with all the humility that can fit in a human body , was leading his boys to the place that was theirs by right: the World Cup final. Read the rest of this entry »